Clinic prices and packages
All our treatments including your initial consultation are £62. And all our treatments are 60 minutes. We strongly believe that you would always get a better recovery over a sustained 60 minute treatment than a 30 or a 45 minute. This also gives you time to discuss any questions or concerns whilst giving us the time to be best effective with our hands on therapy. If you're planning on having more than 6 treatments in a lifetime with us, definitely consider buying a course of 6 treatments for the price of 5 (£310). There's no time frame to use these whether visiting us once a year or should you need frequent treatmenst to help rehabilitate your present requirement. If you're training for a marathon, some prefer to visit us monthly / fortnightly closer to the build up to competition day. The choice is always yours in the end as to how you would like to use them.
Most credit cards welcome, except American Express... sorry!
---
What to expect from your initial consultation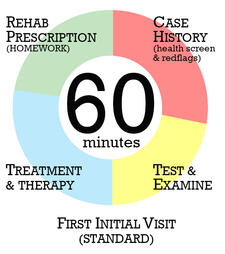 If visiting us for the very first time with an injury or niggle, allow time for us to register your details and take a full case history to get a good understanding of where you are in the injury / pain cycle. We'll also conduct a health screen to ensure it is safe to treat mindful of any health issues / allergies, skin or heart conditions. Testing the area will follow to check range of movement, muscle firing and strength testing. Only at that point can you expect us to give you the most accurate diagnosis to progress to treat the area (and most likely surrounding tissues). Following treatment, exercise prescription (homework) will be given to empower you the ability to help improve your health & function. After all, it's what you do with the other 111 hours of the week that dictates a fast track back to normality!