Treatments at UpandRunninginHovePark
We offer a range of treatments covering most sports and non sports given scenario. All treatments are 60 minutes long and we will always fine tune this time around your requirements. Post treatment advice is always given alongside a bit of homework to help get the best from the treatment and return you back to good function as quickly as possible. If you have any questions or concerns as to whether any of these treatments are right for you, we'd be delighted to speak with you either in clinic or over phone should you need any further information.
---
Sports injury, diagnosis and treatment
Have an injury? Whether recent or been tolerating it for too long? Be seen by a qualified and experienced injury therapist who will test, diagnose, treat and provide you with all you need to know to get yourself back functioning again! If homework is followed as to the frequency we recommend, you should be able to fix yourself without any further trips to visit us. Alternatively, if you prefer to let us 'take care of business', we'd be happy to support you too. Read more...
---
Book online, get things moving... literally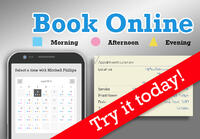 Book today! With our very new online booking software, you can schedule an appointment in no time at all and be on the first step back to function. UpandRunningInHovePark operates 6 days a week from 10am until late giving you plenty of clinic availabilities to choose from. Don't put off until tomorrow what you can do today!