Evolution... we're going the wrong way!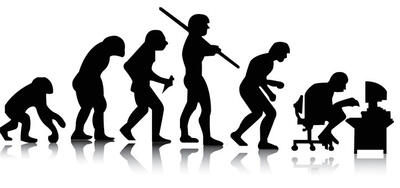 As a species we are always more likely to be stronger on our anterior muscle chain (front muscles) in comparison to our posterior chain (behind muscles). This is partially down to Physics but more prominantly down to us sitting down and operating machinery in front of us. If sitting down is slowly returning us to a fully flexed Fetal position, is it just a coincidence that we tend to experience more pain or discomfort behind us than infront of us?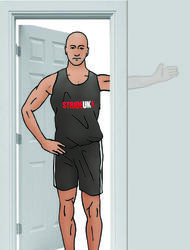 Prelonged periods of time on a laptop, driving a car or building something causes our shoulders to rotate forward. Before we know it, our head travels forward causing our neck stabilising muscles to work overtime stopping your head from falling off your shoulders. Hence we experince discomfort and reduced range of movement. Neck rehabilitation still continues to be a big service we provide, second to the lower back discomfort which uncoincidently is a further seat based symptom. Our rule of thumb - Get up, move around, stretch and review your daily sitting quota. Performing a chest stretch on the hour (a 60 second stretch using a doorway to open up the pectorial muscle) works wonders to help offset the amount of time we spend medially rotated.

In the gym, think about exercises that concentrate on upper back rather than chest. Any exercises that first requirement is to pull is normally an exercise for your posterior chain (back muscles), any exercises that first reaction is to push, chances being you're training your front muscles to become shorter and more restricted.
Treatments tailored for the upper body
UpandRunninginHovePark offers a range of treatments tailored around the upper body. All treatments are 60 minutes long and cost £62. Concessions available for Under 12's, over 60's, Emergency services, NHS staff, teachers and Military. There's also a 6 for the price of 5 offer saving you £62 (ask within).
---
Sports injury diagnosis and treatment
Have an injury? Whether recent or been tolerating it for too long? Be seen by a qualified and experienced injury therapist who will test, diagnose, treat and provide you with all you need to know to get yourself back functioning again! If homework is followed as to the frequency we recommend, you should be able to fix yourself without any further trips to visit us. Alternatively, if you prefer to let us 'take care of business', we'd be happy to support you too. Read more...
---
---
Book online, get things moving... literally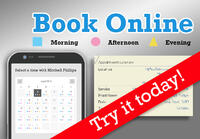 Book today! With our very new online booking software, you can schedule an appointment in no time at all and be on the first step back to function. UpandRunningInHovePark operates 6 days a week from 10am until late giving you plenty of clinic availabilities to choose from. Don't put off until tomorrow what you can do today!