Why humans are quite like cars! (bit random but stick with us!)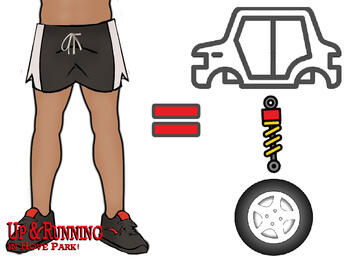 Despite many health professionals still promoting that walking, running and moving starts at the feet, we believe that walking, running & moving actually finishes at the feet! It's important to appreciate movement from this perspective as injuries and performance typically stem from the hips down and finally work their way towards the extremities (end limbs). if you were to imagine your body as a car, your feet - the wheels, your legs - shock absorbers, your hips - carriage, your top half - passenger. Mindful of this, any wear or tear that occurs in the wheels / tyres and shock absorbers is more likely to be due to poor balance / tracking in your carriage. This approach is paramount to helping rehab you fast and effectively. If you think about it, worn down tyres are usually a sign that somethings happening further up the chain.
Treatments tailored for the lower body
UpandRunninginHovePark offers a range of treatments tailored around the lower body. All treatments are 60 minutes long and cost £62. Concessions available for Under 12's, over 60's, Emergency services, NHS staff, teachers and Military. There's also a 6 for the price of 5 offer saving you £62 (ask within).
---
Sports injury diagnosis and treatment
Have an injury? Whether recent or been tolerating it for too long? Be seen by a qualified and experienced injury therapist who will test, diagnose, treat and provide you with all you need to know to get yourself back functioning again! If homework is followed as to the frequency we recommend, you should be able to fix yourself without any further trips to visit us. Alternatively, if you prefer to let us 'take care of business', we'd be happy to support you too. Read more...
---
Deep tissue massage destress & indulge
Work load / stress load at tipping point? Does your body feel that it's in need of deep release? We pride ourselves on delivering a deep connective tissue massage working at a pressure you feel comfortable with. Promoting better circulation into the lower level fibers not only encourage better circulation but also can help with improving range of movement which can aid recovery and performance. Read more...
---
Pre race / event / competition massage
Look no further if you would like a treatment to help best prepare for an up and coming race, event or competition. Expect a great treatment mindful of your individual needs including time to shoot the breeze about last minute event preparations! Read more...
---
Post race 'help return me to normal'
Post race treatments are very popular for folks looking for a treatment to help return you to functional working order as soon as possible. These treatments are more TLC than OMG. Pressure appication is paramount as we are looking to promote recovery not endurance. We would recommend visiting us minimum 48 hours following your event, but have been known to treat directly after the event to help promote faster recovery. Read more...
---
Book online, get things moving... literally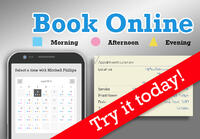 Book today! With our very new online booking software, you can schedule an appointment in no time at all and be on the first step back to function. UpandRunningInHovePark operates 6 days a week from 10am until late giving you plenty of clinic availabilities to choose from. Don't put off until tomorrow what you can do today!