Clinic opening hours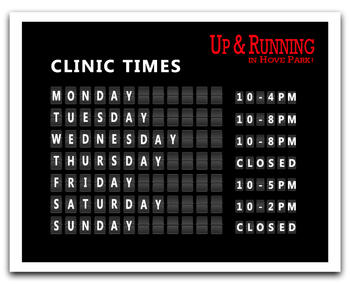 UpandRunninginHovePark is open 5 days a week (closed Thursdays for weekly extensive customer relationship think-tank brainstorming). We have evening availabilites Tuesday & Wednesdays and open Saturdays from 10am until 2pm. Phone lines open from 9am to 6pm, if out of hours, you can always try our awesome new online booking system which allows you to book at any unearthly hour you happen to be surfing the internet!
| | | |
| --- | --- | --- |
| | | We are a stones throw from The Hove Park Cafe giving you the ultimate waiting room if you happen to arrive early or somewhere to relax following your visit. We are the opposite side of the public loos heading towards the kids free climbing area. We have a private entrance with a private a waiting room if you need to escape the weather or Paparazzi. Access to our clinic is via a secure intercom door entry system. Just press! |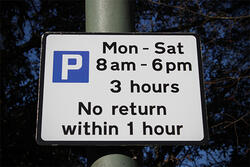 Goldstone crescent side of Hove Park has a 3 hour free parking zone between 8am - 6pm Monday to Saturday. As we are a stones throw from the Hove Park Cafe, we suggest that you park your car in earliest stage of Goldstone Crescent (nearest to Old Shoreham Road) or if you're feeling lucky, take your chances finding a parking place on the west side of the park in Park View road which is pretty much on the doorstep of our clinic. Park View Road also has 3 hour parking, but also has double yellows for Blue Badge parking too.