A 5k is still a 5k regardless of how long it takes you to run it.
Running isn't always about completing something as fast as possible (a 5k is still a 5k no matter what time you do it in). For me running has always been the perfect coping strategy when dealing with lifes ups and downs. Mindful of this, there's nothing more frustrating when something that gives you so much positive energy ends up causing you pain, discomfort or even an injury. At UpandRunninginHovePark, we treat every patient with utmost importance to get you back on your feet again as quickly as possible. We can't guarantee a magic cure, nor prescribe a magic pill to cure you, but we do have plenty of experience to help guide and support you back to doing what you love to do. My 3D running technique company www.strideuk.com soon became one of the UK's most leading motion analysis companies working with everyone from Couch to 5k, Can't run / want to run, Triathletes, Common Wealth, Olympic, MDS to Paralympic athletes. I've worked with high level athletes including James Cracknell, Liz Yelling, Richard Whitehead and the legend Eddie Izzard. I've written for Runners world, Running Fitness, Mens / Womens Running, The Guardian and presented at Virgin Marathon training days. If visiting me with a running related problem, expect a thorough investigation with plenty of questions being fired at you. That way I hope to be able to tap into where you are in your 'pain / injury' cycle and help return you back to health as quickly as possible. Homework is paramount to a successful outcome. My oath is to give you as much info to help guide you back to normal function, your oath would be to follow the advice given, stay positive, be patient.
---
Treatments Available
UpandRunninginHovePark offers a range of treatments built around running and all that comes with it. All treatments are 60 minutes long and cost £62. Discounts available for Park Runners (ask and you shall receive!). There's also a 6 for the price of 5 offer saving you £62 (ask within).
---
Sports injury diagnosis and treatment
Have an injury? Whether recent or been tolerating it for too long? Be seen by a qualified and experienced injury therapist who will test, diagnose, treat and provide you with all you need to know to get yourself back functioning again! If homework is followed as to the frequency we recommend, you should be able to fix yourself without any further trips to visit us. Alternatively, if you prefer to let us 'take care of business', we'd be happy to support you too. Read more...
---
Running MOT / biomechanical assessment
Gain a clear grip of your very own running 'set up' in 60 minutes with one of our running specialists. Our 3d running technique gait lab www.strideuk.com provides a clear edge over most other 'running specialists'. This 60 minute session doesn't require running, but will cover the huge foundations to injury free performance. Bring shoes, shorts and t-shirt as you will be moving! Read more...
---
Pre race / event / competition massage
Look no further if you would like a treatment to help best prepare for an up and coming race, event or competition. Expect a great treatment mindful of your individual needs including time to shoot the breeze about last minute event preparations! Read more...
---
Post race 'help return me to normal'
Post race treatments are very popular for folks looking for a treatment to help return you to functional working order as soon as possible. These treatments are more TLC than OMG. Pressure appication is paramount as we are looking to promote recovery not endurance. We would recommend visiting us minimum 48 hours following your event, but have been known to treat directly after the event to help promote faster recovery. Read more...
---
Book online, get things moving... literally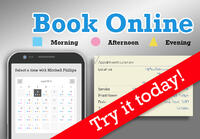 Book today! With our very new online booking software, you can schedule an appointment in no time at all and be on the first step back to function. UpandRunningInHovePark operates 6 days a week from 10am until late giving you plenty of clinic availabilities to choose from. Don't put off until tomorrow what you can do today!